As outlined in Part I of my Nudes A Poppin' blog post, I attended the festival for the first time this past July.  Of course, all of the weekend's performers were nude at some point or another, but attendees also had the choice to go full on birthday suit. I've been on a few nude beaches in Oregon, California, and France, but nothing like a beauty pageant at a nudist resort.  Nudes A Poppin' was also my first experience exhibiting my art in a fully clothing optional environment, leading me to wonder how people completely in the buff would carry their belongings. 
Backpacks, it turns out, were the way most of the attendees who were nude chose to wrangle their cameras, water bottles, purses, wallets, etc.  Some people were more creative, such as the guy with a gigantic gauge ring through his penis who pulled a ziploc bag of cash out of who knows where.
I flew into Chicago the night before the show, and drove the roughly 1hr to the Roselawn, IN, area.  The show started at 10am Saturday morning, which was really 7am Pacific Time, when I normally go to sleep after working on art all night.  Miraculously (largely thanks to energy drinks) I was able to drag myself to the Ponderosa Sun Club around 8:30am Eastern Time and had a nice looking booth set up when it came time for the gates to open.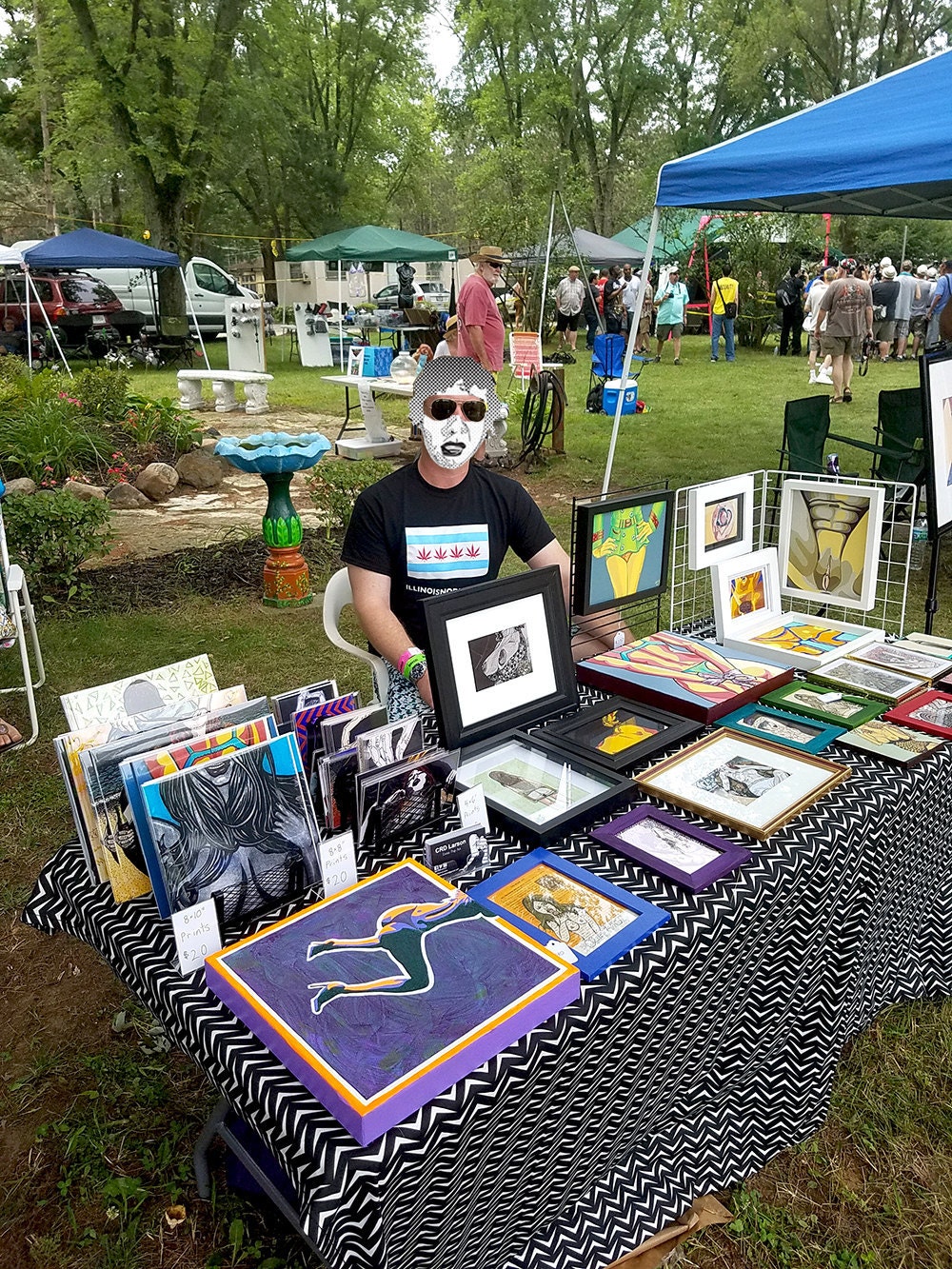 All set up and ready to go, I waited for the fun to begin, and begin it did.  I was surprised at how many attendees were there from the time the gates opened.  The first events wouldn't be starting for a couple of hours, but those in the know arrived well ahead of time to stake out their seating positions before the main dances and competitions began.  The event was B.Y.O.B., and by 10:30am the scent of canned domestic beer and hundreds of cigarettes wafted through (and this was an outdoor festival.)
The main hosts were Ron Jeremy and James Bartholet, along with Sunny Lane, Jillian Janson, and Flynt Dominic (who also performed some original rap songs).  A last minute surprise - just added as a host a few days before Nudes A Poppin' 2017 began was Flavor Flav!!  The hosts all had their own way of keeping the audience entertained between dances and competitions, with Sunny and Jillian tittilating and seducing the attendees.  The two stars told risque stories and were encouraging audience members to go on social media to follow their real time, behind-the-scenes sexy antics in the clubhouse/green room.  It sounded like what Jillian and Sunny were up to may or may not have displeased the State of Indiana if they weren't behind closed doors, though I did not investigate for myself.
Flynt Dominic, scheduled to perform original raps up on the main stage, was sadly able to only do two songs, as the sound system was having intermittent hiccups all weekend.  Flynt had funny and engaging quips as host (especially when someone who knew him said his name incorrectly), but unfortunately the main thing that I remember about him is the sound problems surrounding his performance.
Ron and James have known each other for years, and have a funny, if not pretty rehearsed/memorized schtick.  Ron had lots of jokes and funny anecdotes, while James had a bunch of fun costumes he wore (one made it seem he was being eaten by a shark, another was a Pharoah costume) and was roasting Ron's choice of clothing and footwear.  Side note: I didn't get a picture of James, but I had the opportunity to speak to him on both Saturday and Sunday, and he was a very friendly and warm person.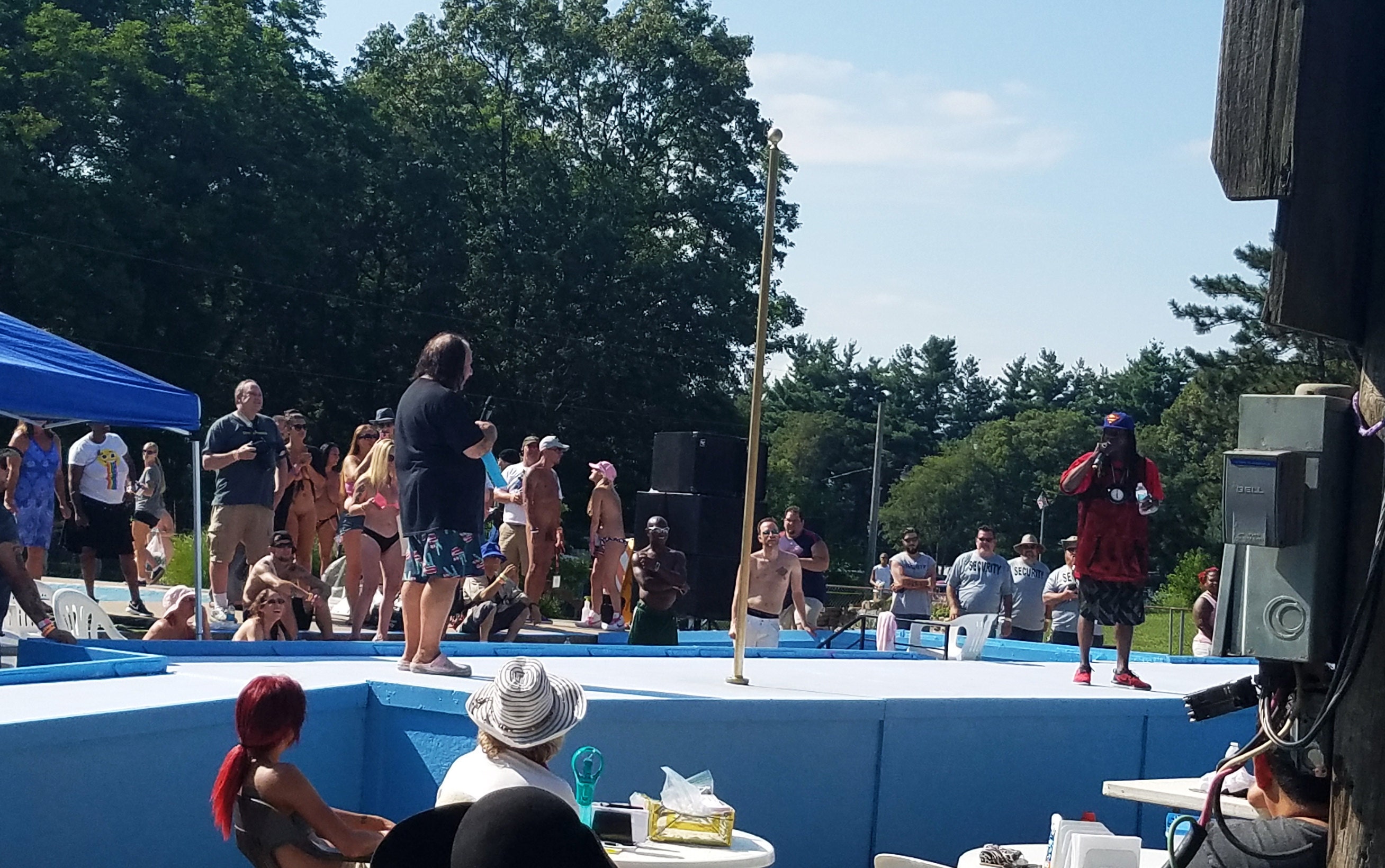 Flavor Flav, of course, was a persona on an entirely different level.  He was lively and enjoyed himself, though he did take a minute to express his displeasure at an airline - one he had previously very much enjoyed - losing his luggage.  At times, he rasped into the mic so strongly that it sounded as much like feedback as spoken words, and his signature clock was perhaps the smallest I have seen him wear.  Overall, he was a bit of a wild card in the best way possible, and in my opinion the atmosphere benefitted from his presence.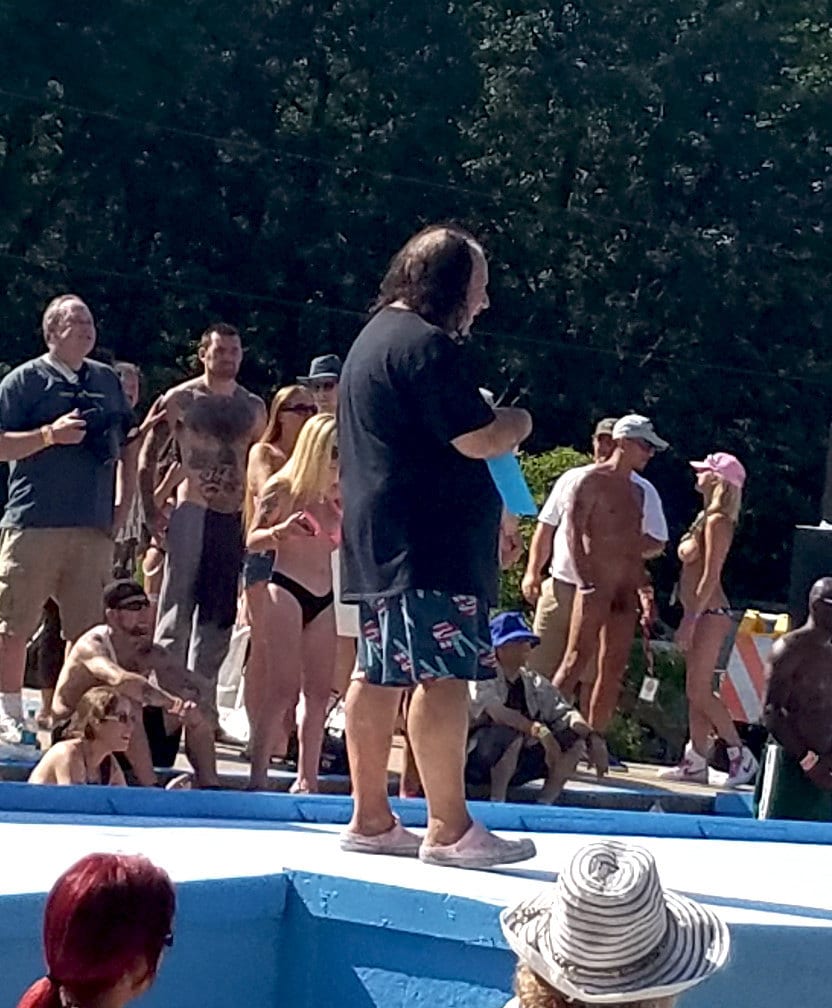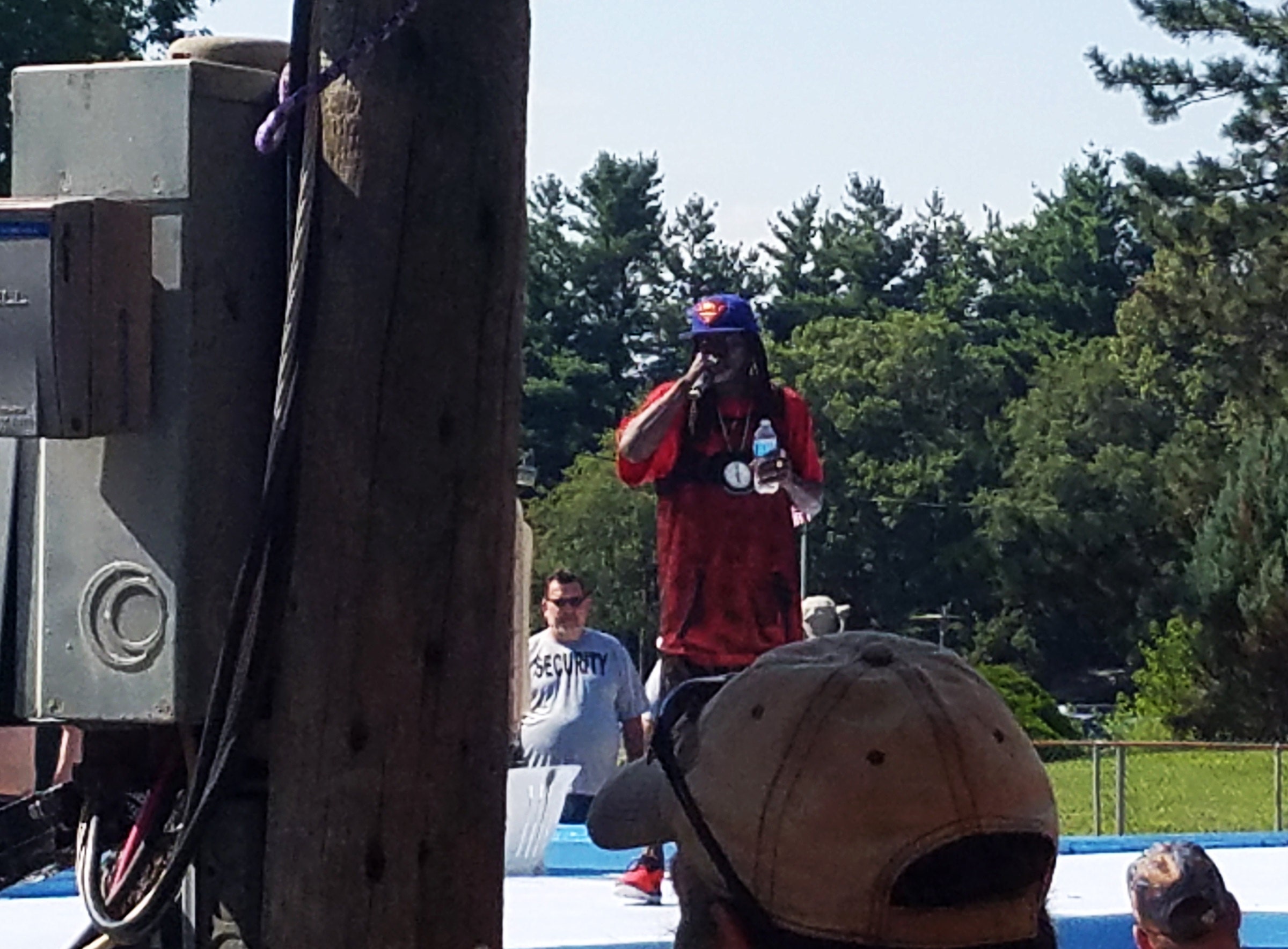 A quick digression - all of the photos in this blog are mine, shot on a somewhat obsolete smartphone camera.  As I was at my exhibition booth a large part of the time, most of my photos aren't that great, though I do like the shots I got of the dancers with a bunch of guys with cameras crowded around them.
Now, the main stage where all of the competitions were taking place was in the Ponderosa Sun Club's pool area (though girls would often walk around in the crowd before/after their sets.)  There were bleachers and judge/V.I.P(?) seats and a row of bleachers close to the pool fence, just across from the main stage runway.  Ringing the pool fence perimeter (inside the fence) were smaller elevated stages with flagpoles where a number of girls danced several times between main performances.  Audience members were welcome to set up outside the pool wherever they wanted, and we vendors were in a semi-shaded area stage right from the main action.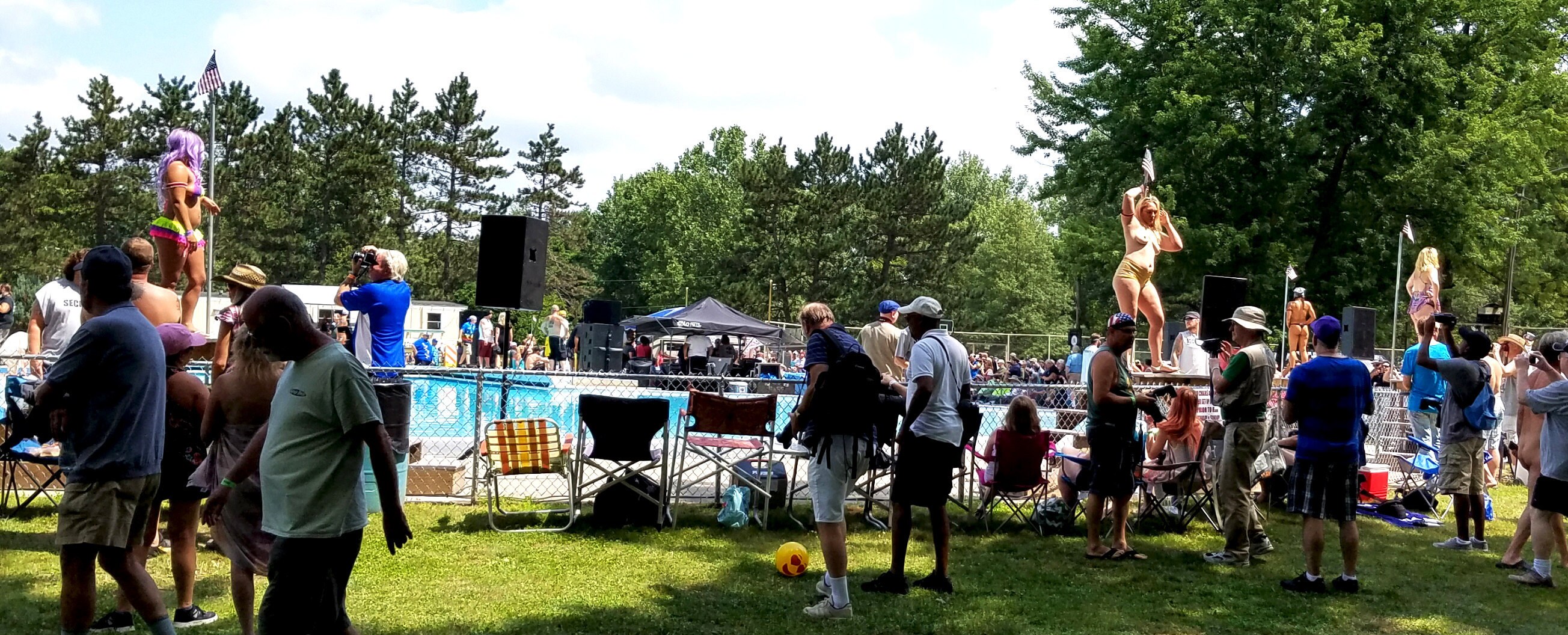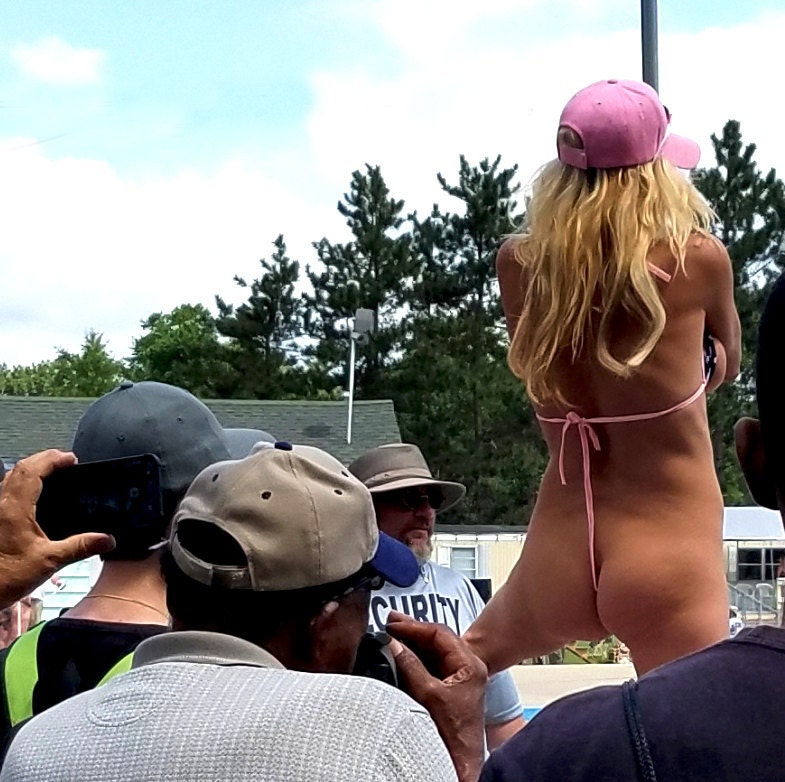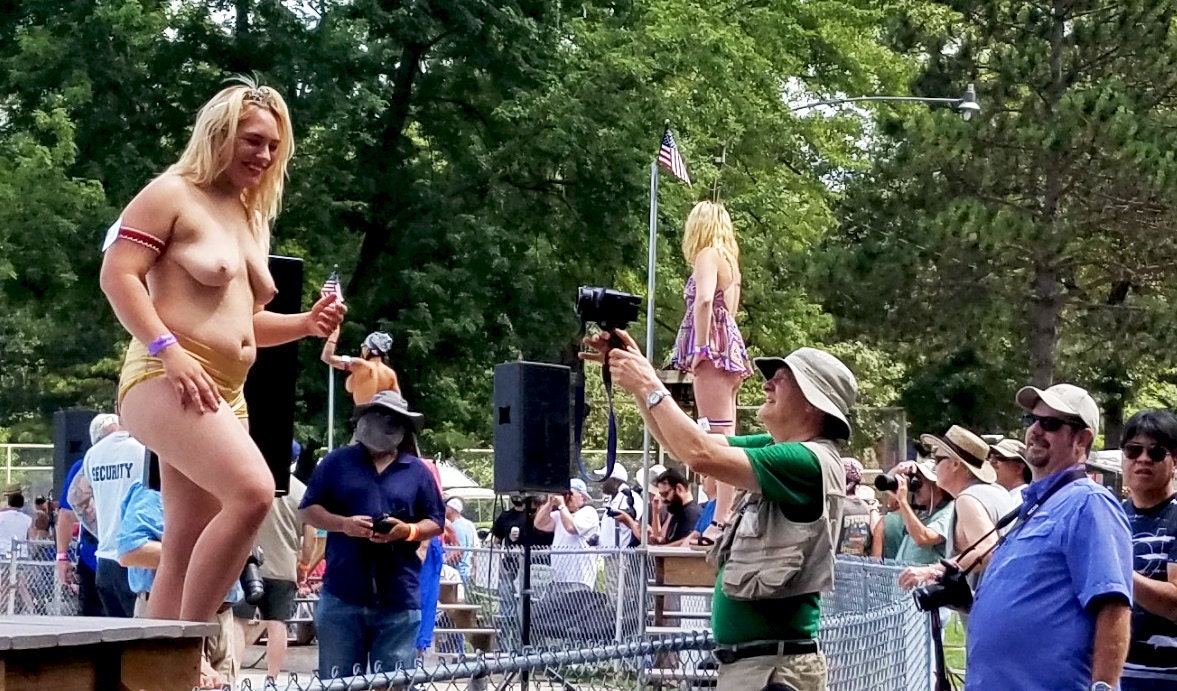 I was the only artist exhibiting, but there were some other great booths, such as adult stars right next to me (along with a photographer from a gentlemen's magazine), as well as lingerie, soaps, and harnesses/cages/bondage equipment.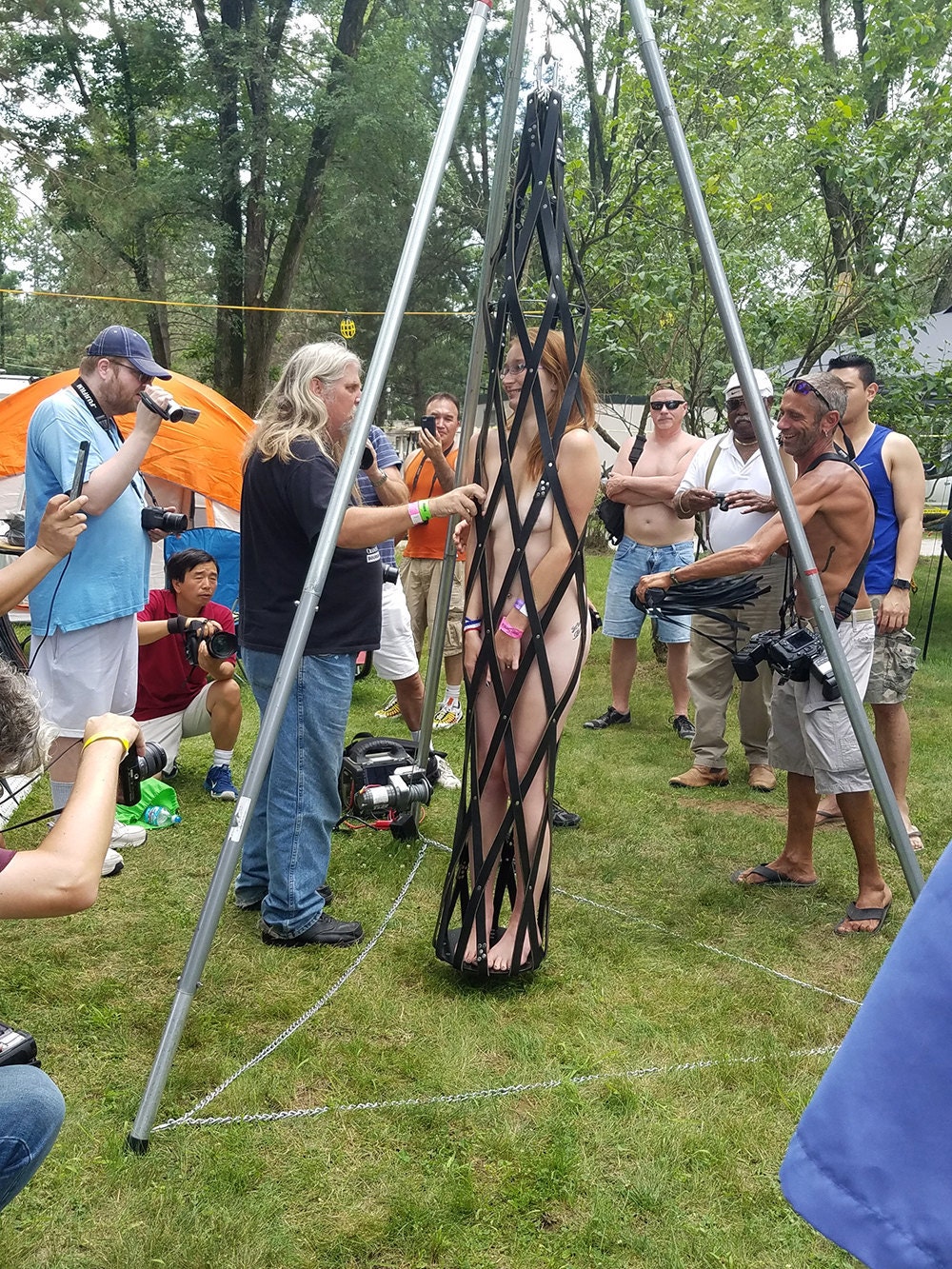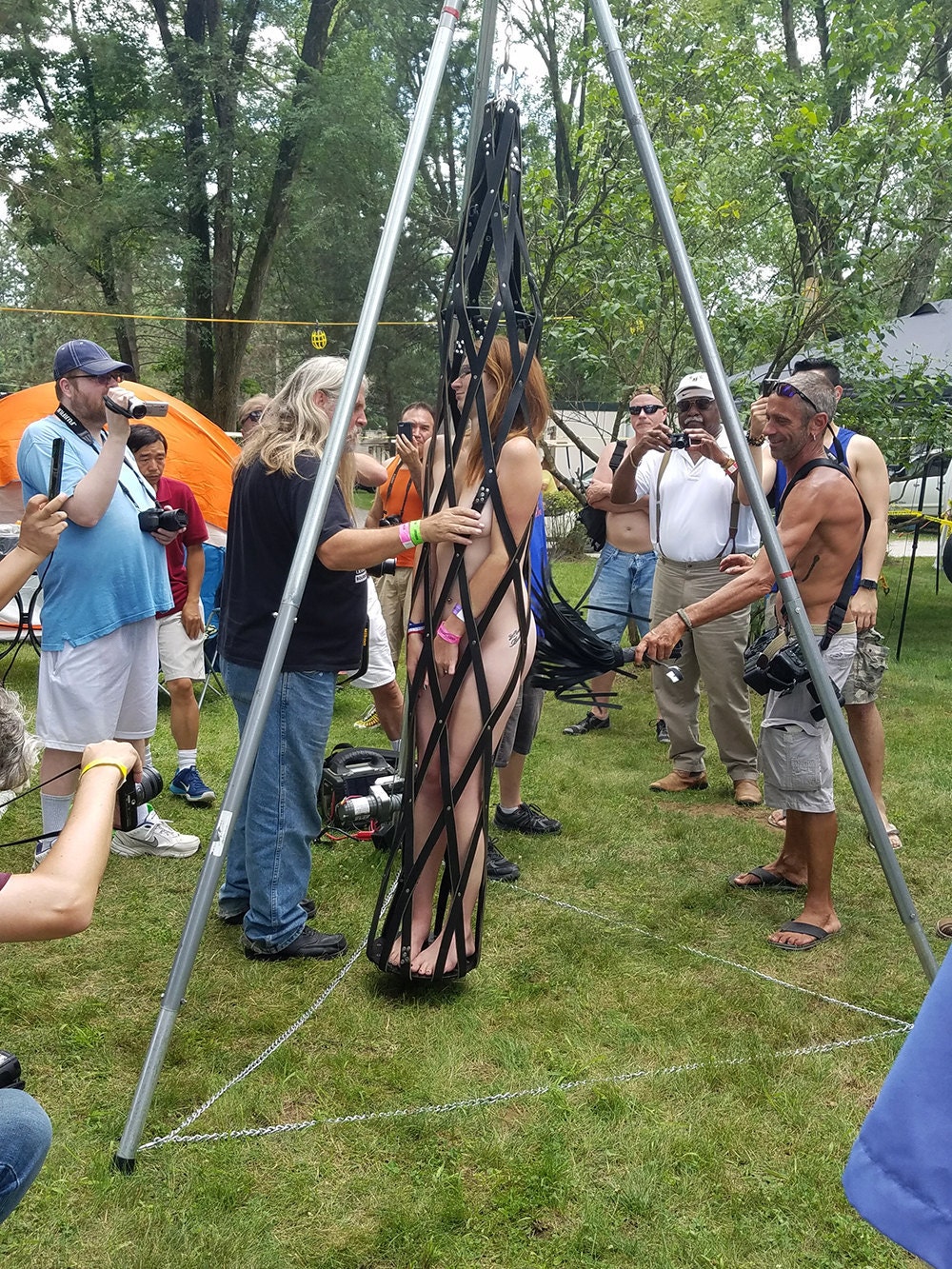 Unsurprisingly, there were more than a few guys enjoying the free swinging spirit.  Here are a few of the more interesting looks that I saw: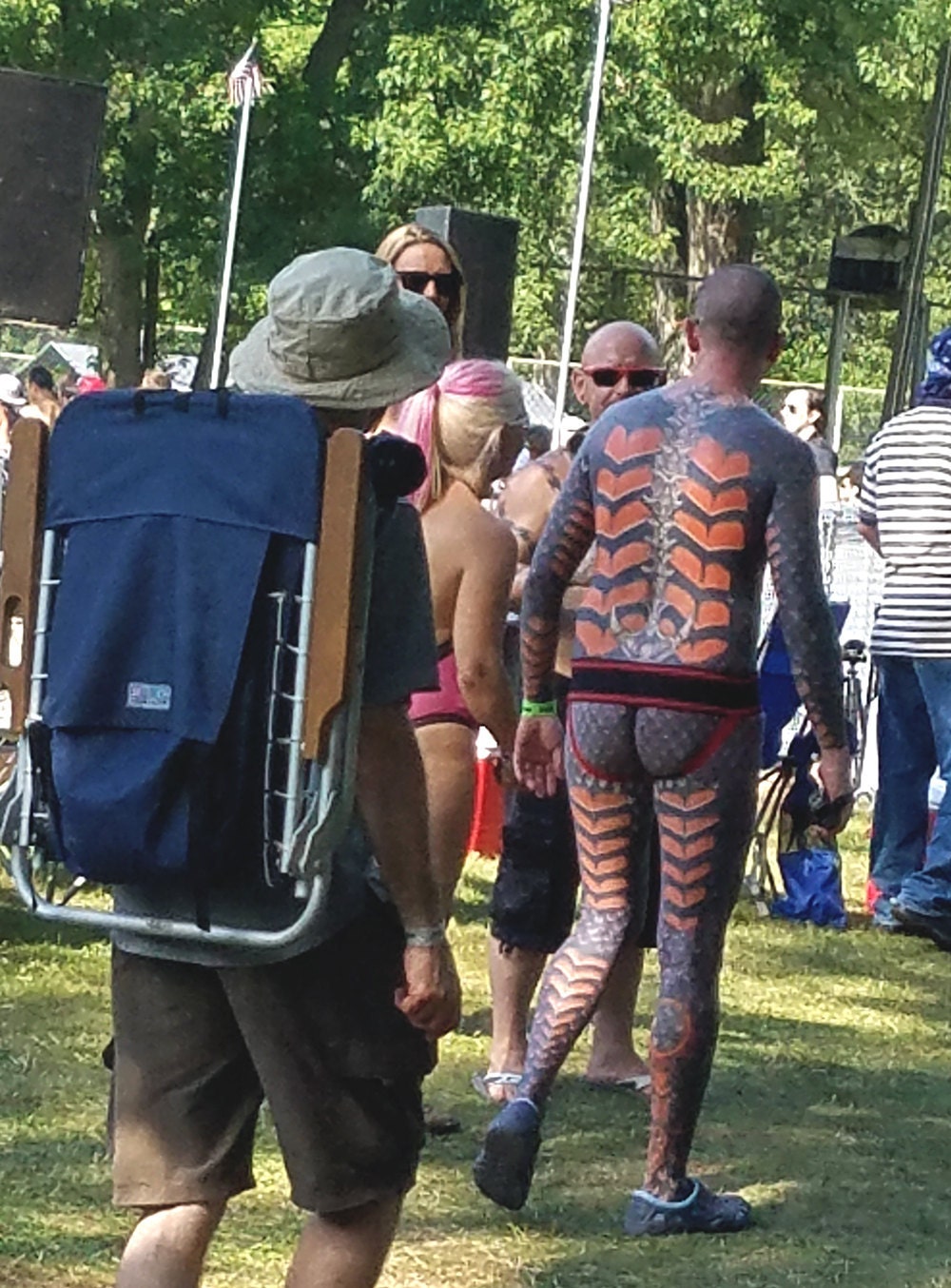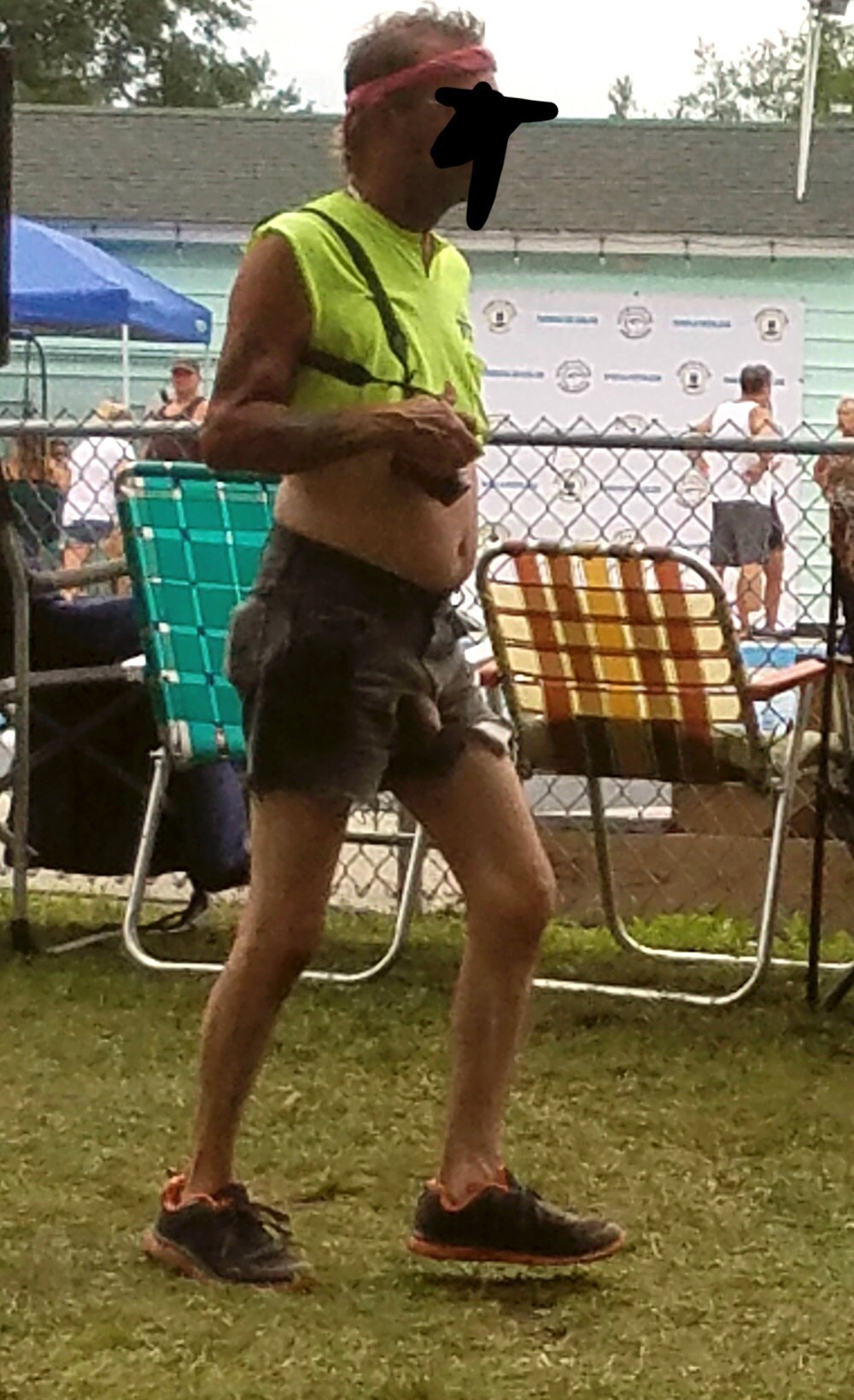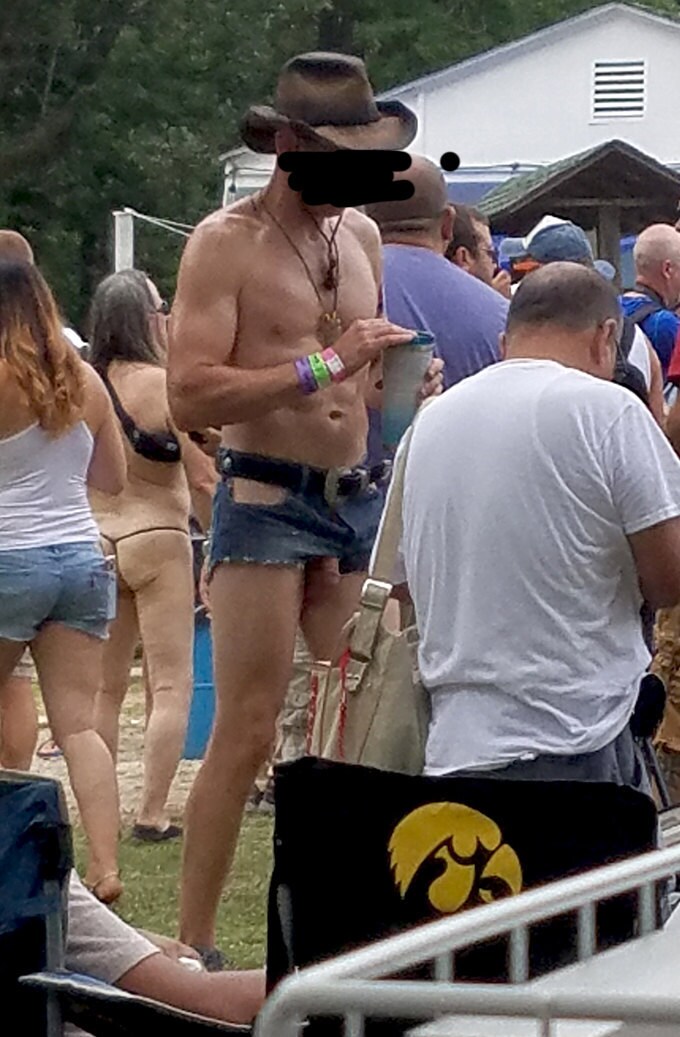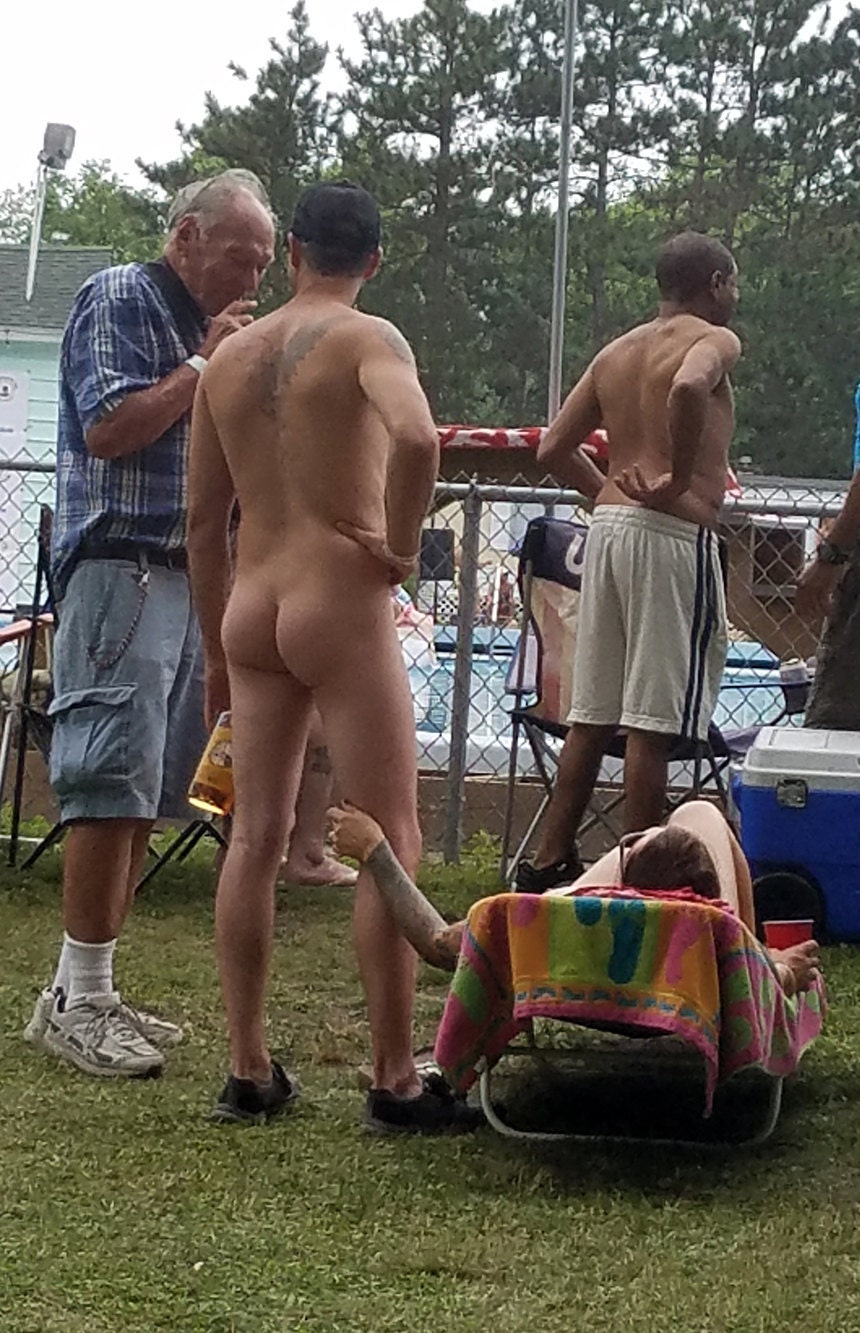 And here are is one more photo (for now, anyways) of a moment I really enjoyed at Nudes A Poppin' 2017: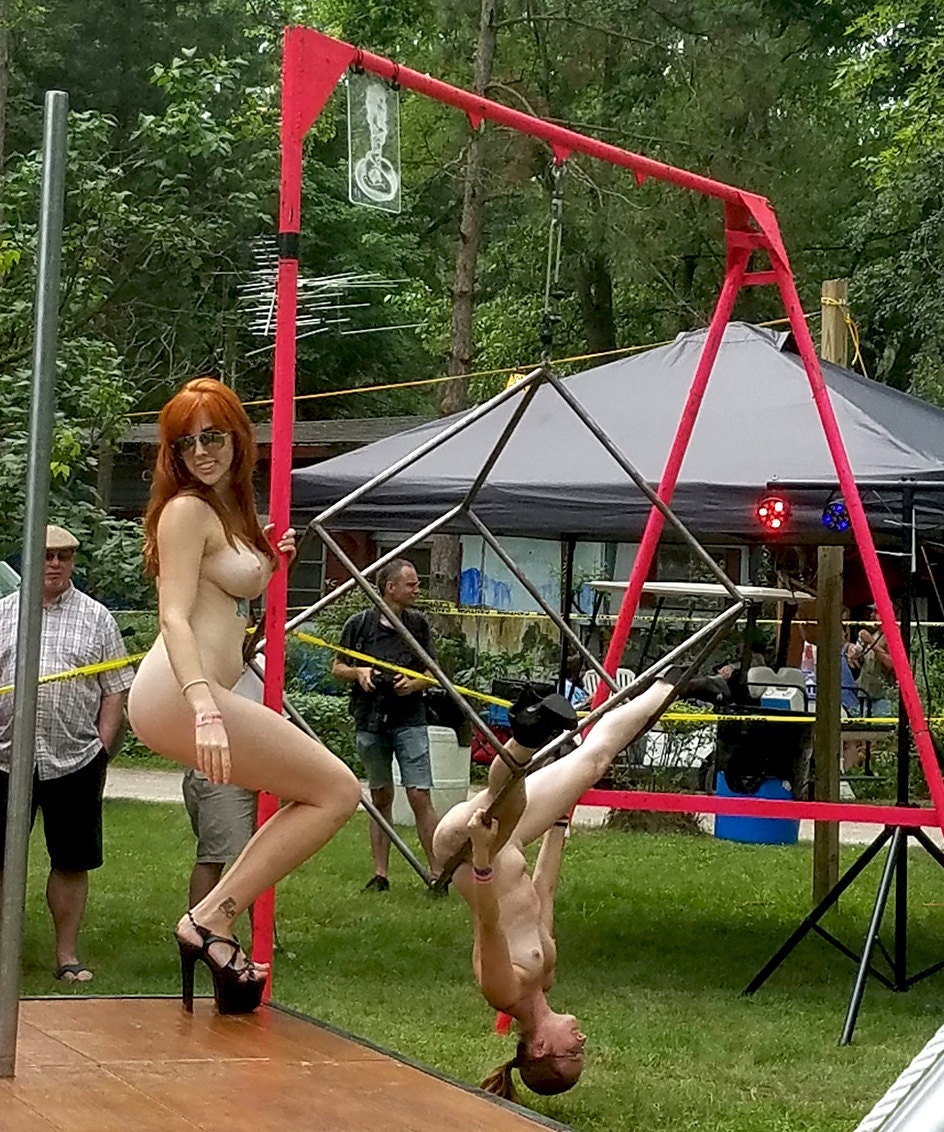 When all was said and done, it was a tremendously entertaining weekend which seemed to pass in the blink of an eye.  Personally, this was not my most successful exhibition (I sold one original painting) -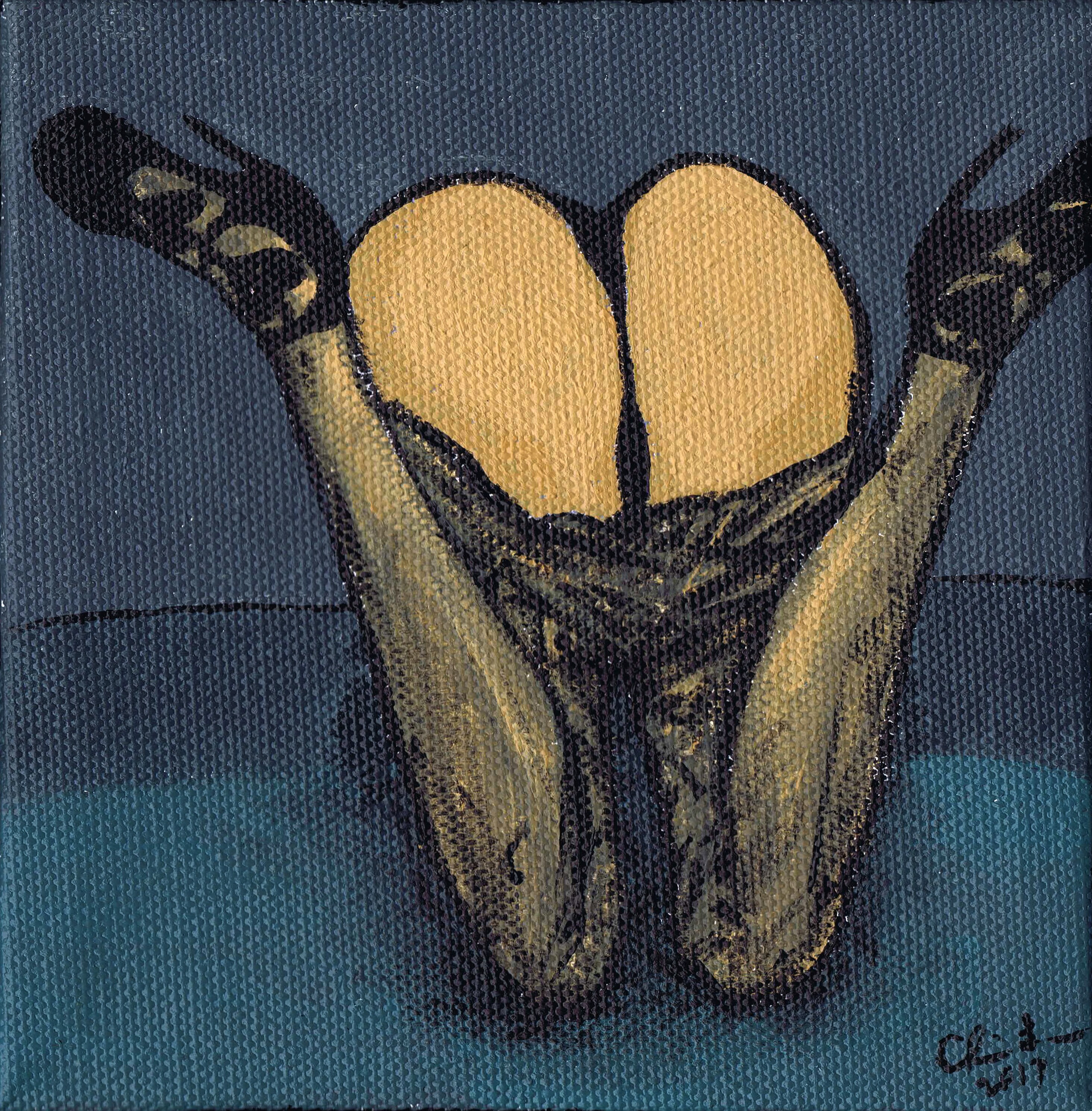 - but I sold a ton of prints, made some great contacts, and met a few wonderful ladies who agreed to pose as references for paintings I plan on doing.  Overall, I had a fantastic time and I thank Rich, Shelley, and everyone from the Nudes A Poppin'/Ponderosa Sun Club organizations for a great weekend!!
All photos taken by/for CRD Larson.  If you would like your face blurred in a photo please message me.
End.