On March 16, I attended (and showed work in) the Raw CUSP show in Seattle, and the experience was less than satisfactory.  First and foremost, the attendees were not a buying crowd.  CUSP was my second Raw show, and I sold work at both shows, but many other artists did not.  Ticket holders to both CUSP and the other Raw show I did (Portland in November, 2015), seemed to be treating the event largely like an art walk.  It seemed almost as if the audience thought buying tickets directly benefited the artists, which is not the case.
Second, but nearly if not more importantly, someone almost stole this painting: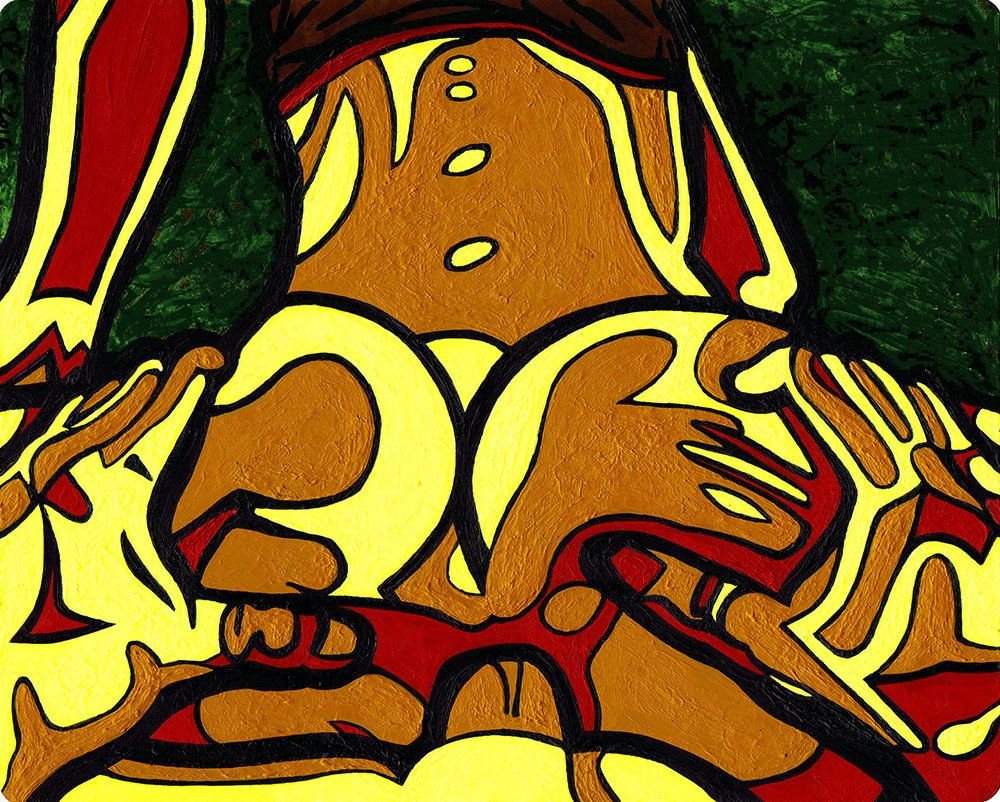 The painting is 8x10" and is in a white wooden frame, making the overall dimensions roughly 9" tall, 11" wide, and 1" deep.  It was too big to tuck in a pocket or waistband, and very few people throughout the evening had a jacket or bag large enough to conceal it.  As it happens, one group was acting kind of odd, and one of the girls (in her early 20s or so) had a very large stiff-sided rectangular purse.
Before I go further, I must note that nobody was caught in the act, so this group may have had nothing to do with the disappearance of the painting.  The girl may be totally innocent.  Circumstantial evidence, however, makes me think otherwise.  You can decide.  End of digression.
The adventure begins with two roughly 21 year old girls, one of whom had the aforementioned very large purse.  From the get-go, they caught my eye, and probably the eye of many other people, by prominently and aggressively kissing.  Nothing wrong with that, just that their passion made them stand out.
The next thing that made me notice them was a little while later, when the girl without the purse - who clearly wasn't wearing a bra - began adjusting her breasts and nipples while making unblinking eye contact with different people.  I began to wonder if the two girls were under the influence of something.  I didn't give them much thought; it seemed they were just two people having a good, slightly exhibitionist evening.
A bit more time passed, and as I had been doing all evening, I ducked off to the bar for another Old Fashioned.  My partner was watching my table, so I wasn't concerned about anything.  Upon my return from the bar, which was upstairs in this 2 level club, I noticed the painting pictured above was no longer there.  My first thoughts were happy, and I asked my partner who bought the piece.  She replied that nobody had bought anything while I was gone.  Quickly my excitement turned to anger.
My partner told me that not only had nobody purchaed anything, very few people had stopped at the table while I was getting my drink.  She did mention that the two girls spent a good few minutes going over all of my work, very excited about several pieces and asking lots of questions.  I asked where they went, and she pointed them out.  At this time, we both took note of the large rectangular purse.
Since I was away from my table and my partner didn't actually see the painting disappear, I went to the show director with our suspicions rather than confront the girls myself.  The director said that she would follow the girls, and sent other staff looking for the painting.
During these few minutes, my partner (who has worked in retail loss prevention) noticed the two girls trying to leave the show.  As they were going through the door, my partner ran up and told the girls that one of the paintings they really liked was missing, asking if they had seen what happened to it.  When they replied that they hadn't, my partner asked the girl with the purse if the painting was in it.  Her reply was "I don't think so" but they both came back into the show.
With the show director following the two girls, I went around warnining other artists that one of my paintings had disappeared and asking if anyone knew anything.  While none of the other artists had seen suspicious behavior, the bartender mentioned that one of the two girls had her credit card declined when she ordered a drink.  Told the card was declined, the girl still tried to take the drink.  When the bartender said that the girl needed to pay for the drink, she replied with a snarky "How?"  The bartender had to take the drink out of her hands.
After about half an hour later, the show director returned with my painting, saying that it had been stashed in a corner on the floor upstairs under a tablecloth.  Unfortunately, she hadn't seen who put it there, nor had any of the artists on the second floor.  Meanwhile the two girls are still hanging out at the show, and even came back to my table, noticed the painting was returned, and told me they were glad I had found it.  I asked them if they had seen anyone hide it upstairs and they said no, but I wasn't sure I believed them.
Soonafter, three rough looking guys arrived and joined the two girls.  They were in their mid to late thirties, and appeared quite scrappy.  The guys had money for drinks, so the five of them hung out listening to the live band and sucking down Coors Light.  As the show began winding down, all five of them approached my table and I began to get a little nervous.
I have had to physically fight off muggers and the like on more than one occasion, so I always have some form of self defense with me.  This night it was a folding blade knife.  As the five of them started looking at my art, I subtly reached into my pocket and opened the blade, fearing the worst.  I left the knife in my jacket pocket, but wanted to be prepared just in case the guys instigated something.
They started talking to me about my art and how much they liked it.  As I didn't have concrete proof that the girls had tried to steal the painting, I acted completely friendly, as if they were any other group who was interested in my work.  After a minute of talking, one of the guys wanted to buy a painting (not the one that disappeared).  I couldn't believe it, but it was fine with me, so I sold him this painting: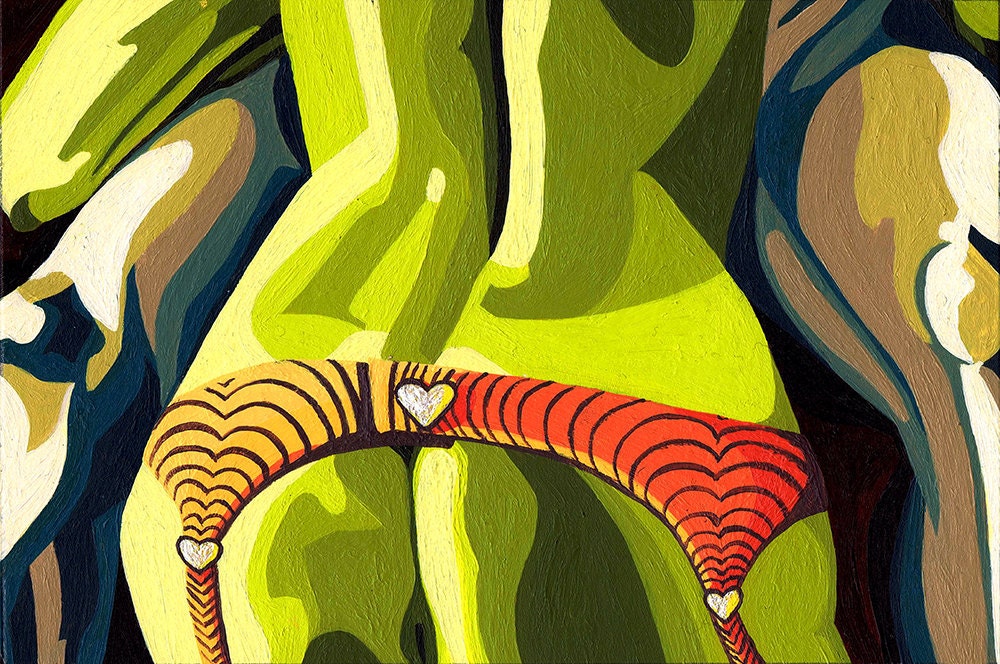 After he paid me, they all left.  I still don't know conclusively that the girls were responsible for the attempted theft, which is part of why I didn't describe them in too much detail.  If they are in fact innocent, I apologize for my suspicions, though given the evidence I have currently, my suspicions remain warranted.  Anyways, if they were responsible, I was lucky enough to instead of lose money to a group, get paid by them instead.  Plus I got this awesome story to tell.  I'd be singing a different tune if the painting hadn't been found, but as it went down, I feel like I got a victory.