A Bunch of Words Regarding a Bit of Op Art 
-or- 
Beneficial Unintended Consequences Born of Chaos
I have on occasion experimented with special paint additives or unique pens, paper, or pencils.  Acrylic on canvas is my go-to media for creating art these days; ink and paper are also used to a lesser degree.  By and large, my art supplies aren't anything particularly special or out of the ordinary.  Nonetheless, I managed to (inadvertently at first, and on separate occasions) create some pieces which glow under black light, and others with mildly psychedelic effects when viewed through 3D glasses.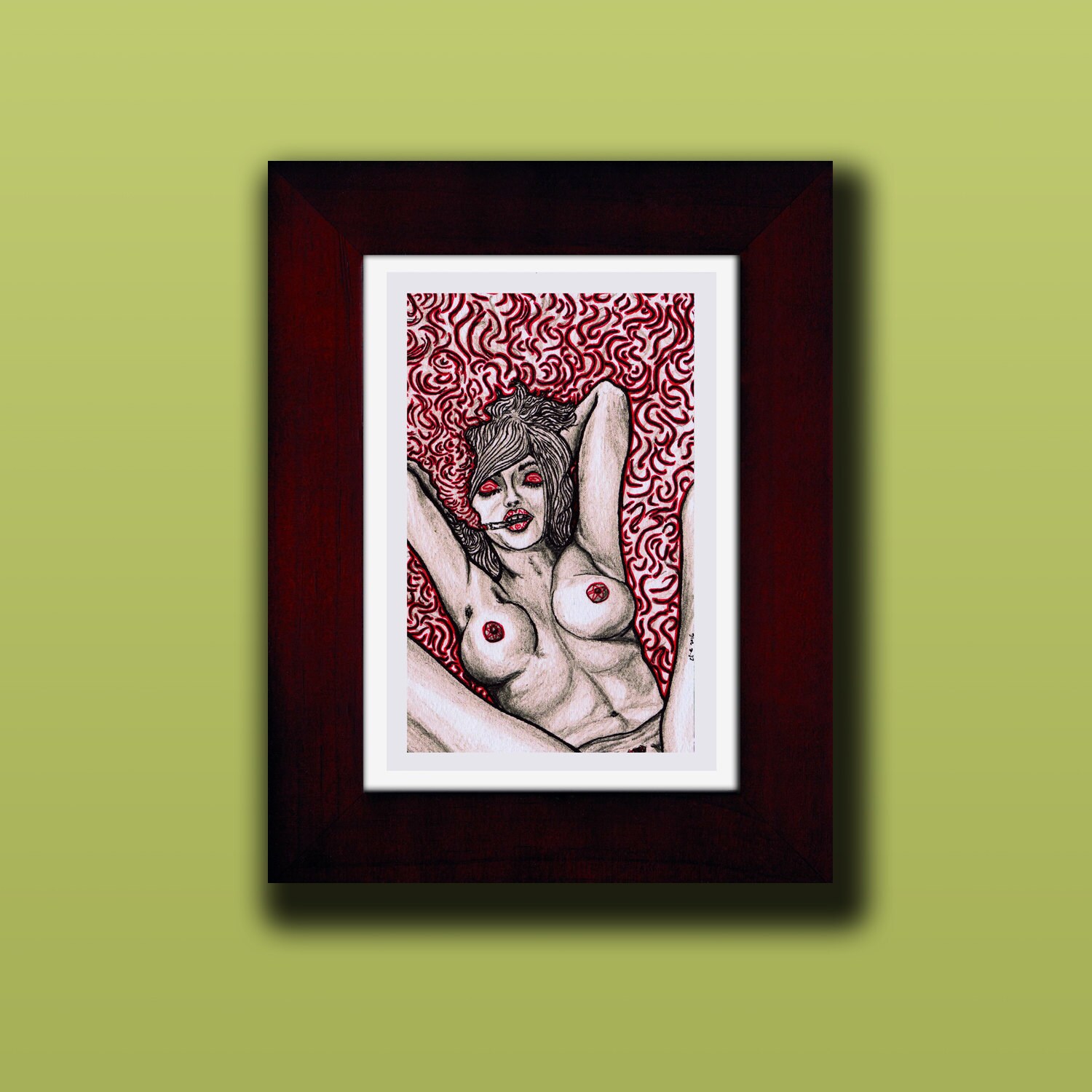 Back in 2011, I was driving some paintings down to Los Angeles* to hang in a record and pop culture boutique, when traffic slammed to a halt on the 405.  One of my paintings wasn't packed well enough and received a small puncture from something else in the car (I don't remember what it is).  I went to an art shop and got some linen tape to repair the canvas and some paint to cover the damage.  While there, I noticed some bright, bold tubs of Liquitex paint I'd never seen before, so I bought a neon orange and a neon yellow.
Fast forward several years, and I had gotten mildly interested in Vaseline glass, or glassware which contains a tiny amount of Uranium oxide.  What makes the Vaseline glass interesting to me is that Uranium oxide glows under black light.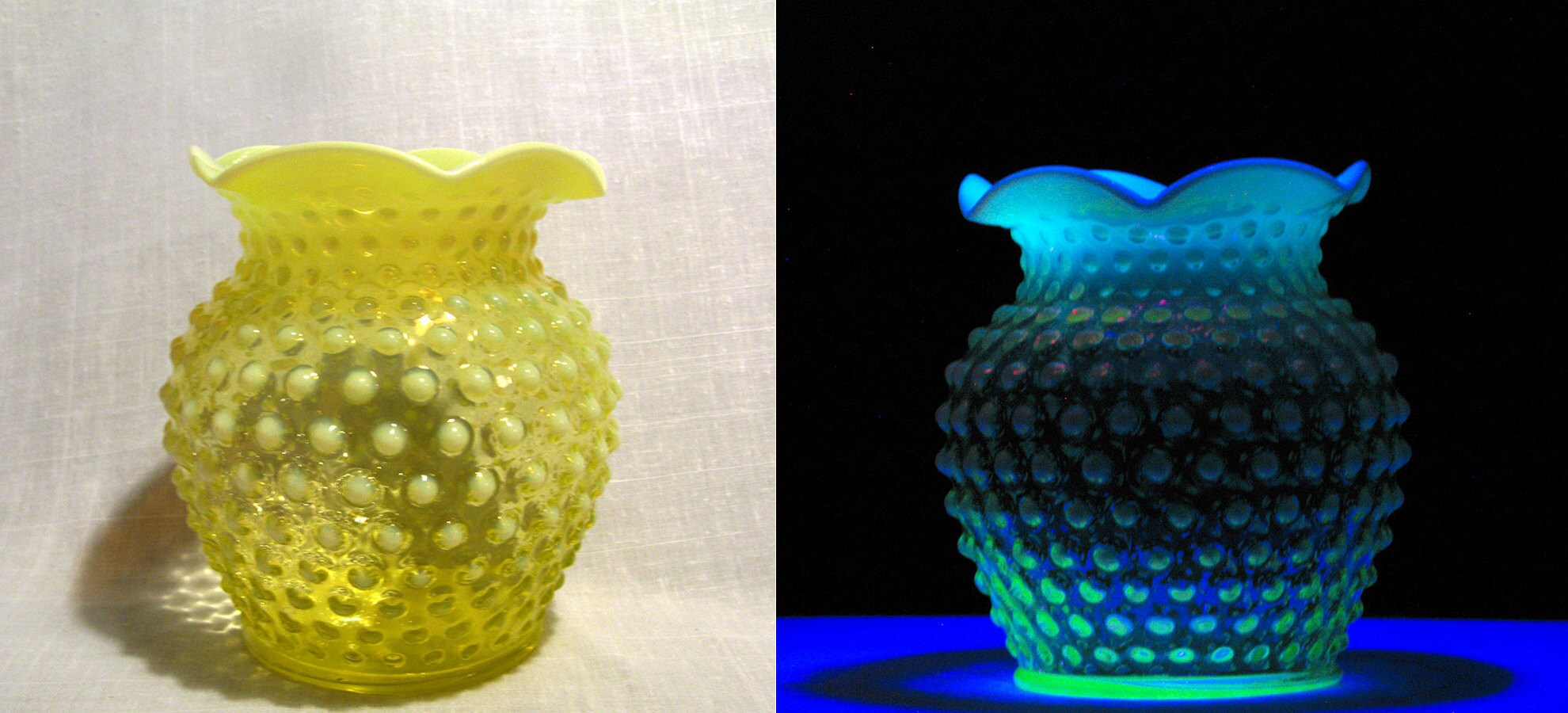 I bought a flashlight with a black light bulb, and soon after picked up a few pieces of Vaseline glass.  At home, the light made not just the plates glow, but also a bunch of tiny spots on my wall near where I had been painting.  Upon closer inspection, there were dozens of tiny drops of orange paint on the wall.  Nearly invisible under natural light, all of these bits of paint were apparently flung with recent vigorous brush strokes.  Sure enough, when I shined the black light on the newly finished painting nearby, areas of orange glowed.
That painting didn't have all that much orange paint, so it didn't look great under the black light (which is why I didn't include an image).  However, I was inspired to check which of my other paints were black light reactive, and discovered the aforementioned neon yellow glowed as well.  Of course, I had to make some pieces experimenting with it; painting compositions with strategic placement and density of black light paint.  I'd already used a lot of both the orange and yellow in earlier works like cover art for this LP, but I was able to make a few paintings like Tasting Mushrooms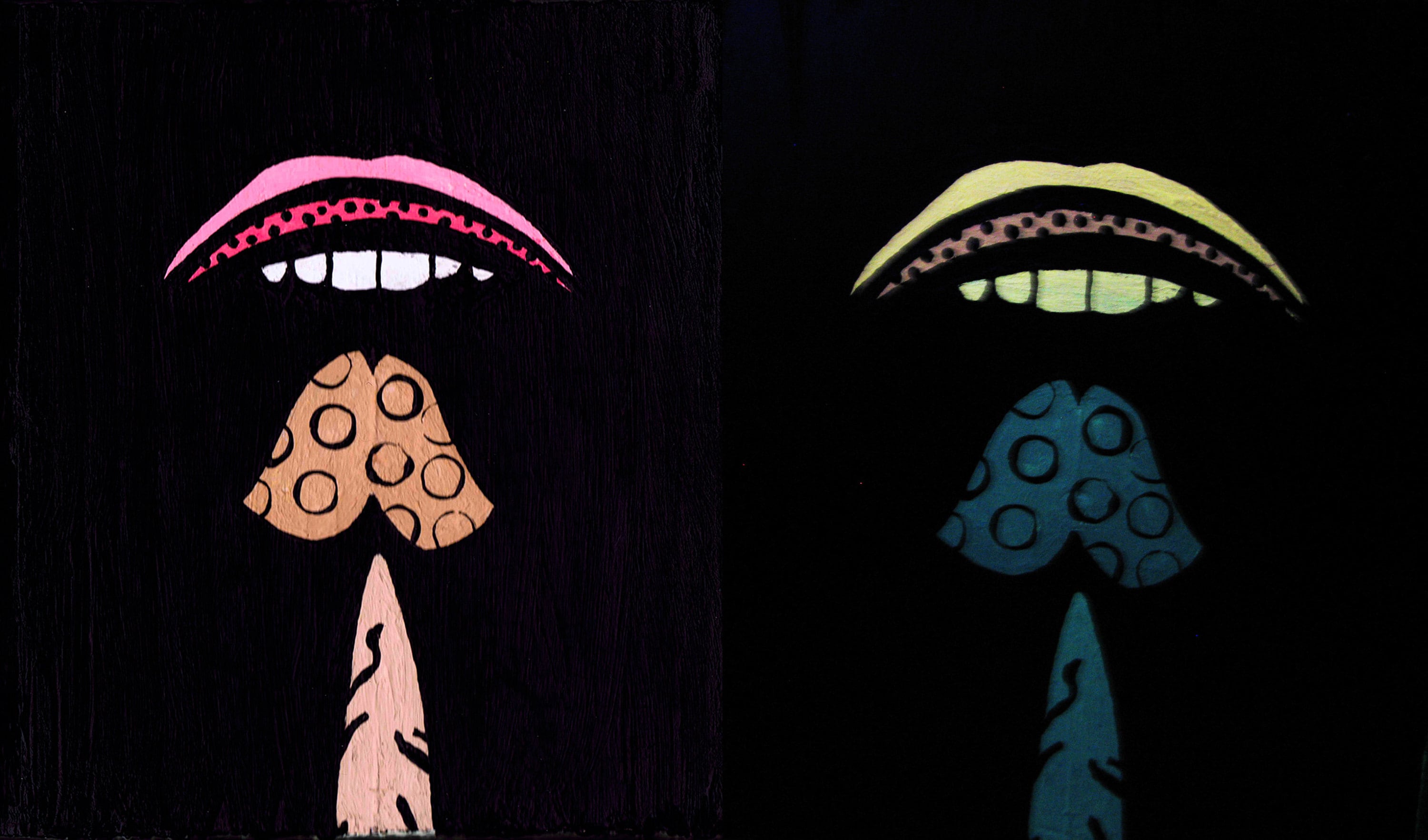 and Veronica.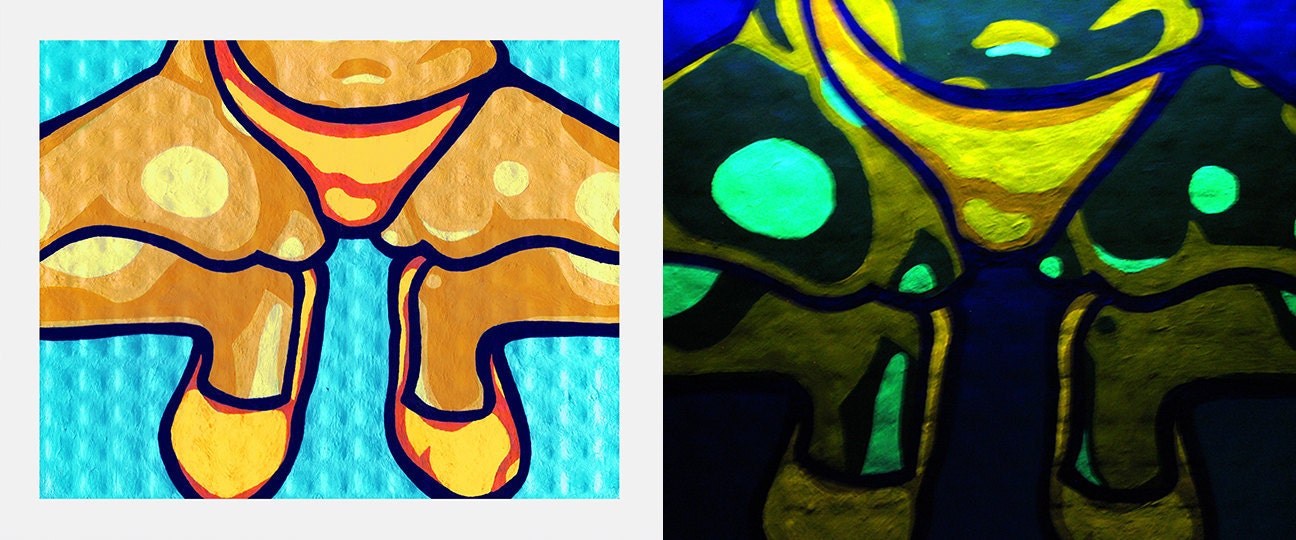 In both paintings, I mixed the black light yellow and orange paints with other acrylics to control how much each part of the composition glowed.
It was also with painting that I first stumbled upon using reds, pinks, and greens in a way which looks interesting with 3D glasses.  I spent the better part of a month creating Large Psychedelic Nude, using black and white to make the pinks, greens, and purples pop on the canvas.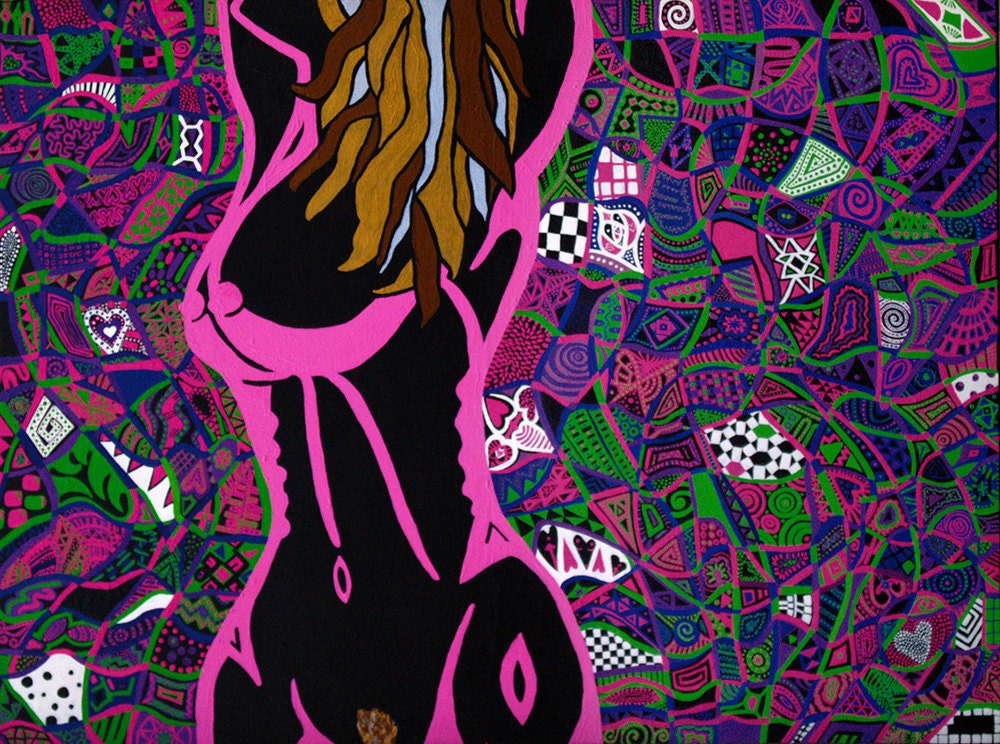 The color palette was not deliberate other than they were colors that I thought went well together.  I had the painting in my own personal collection for a few years, until soon after buying a variety case of Ninkasi beer.  Ninkasi was doing some special promotion which included a pair of 3D glasses in the pack of beer.  
I had a few and put the glasses on, wandering around my house, beer in hand.  When I looked at Large Psychedelic Nude, I realized that I had accidentally done something genius.  While wearing the glasses, the greens and pinks separated from each other, causing a mild but not insignificant dimension of depth to the painting.  I then decided to put the painting up for sale in hopes of finding someone else who would also appreciate its psychedelic nature.  I exhibited the painting at exhibitions in the Pacific Northwest (most notably the Seattle Erotic Art Festival in 2017) before recently selling Large Psychedelic Nude to a collector in Dubai.
Large Psychedelic Nude was such an intricate painting that I haven't yet done another one like it (although Musing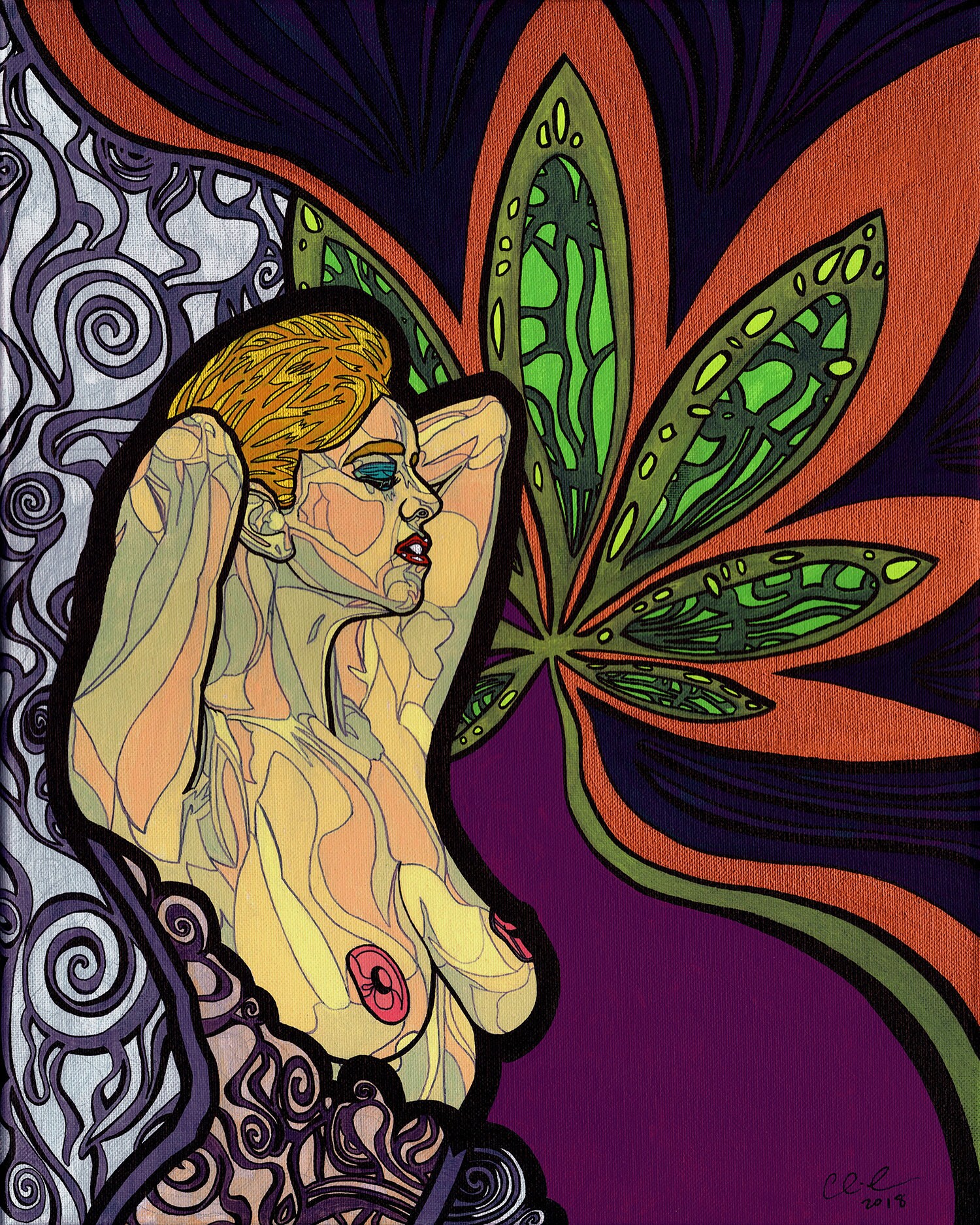 and Lexi II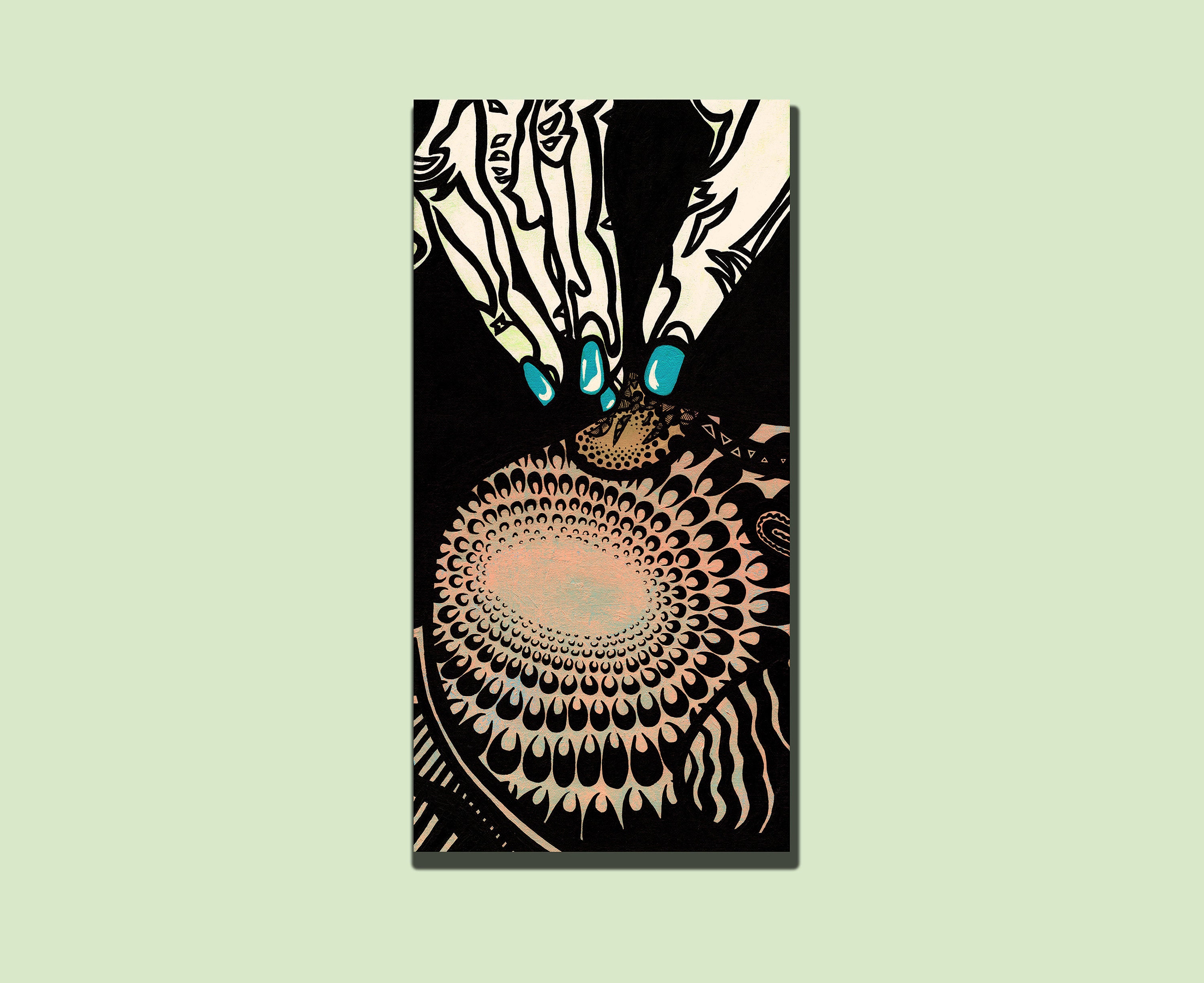 contain a fair amount of complex detail).  I have, however, made a number of varied edition prints using red, green, yellow, and blue pens to hand color black and white images.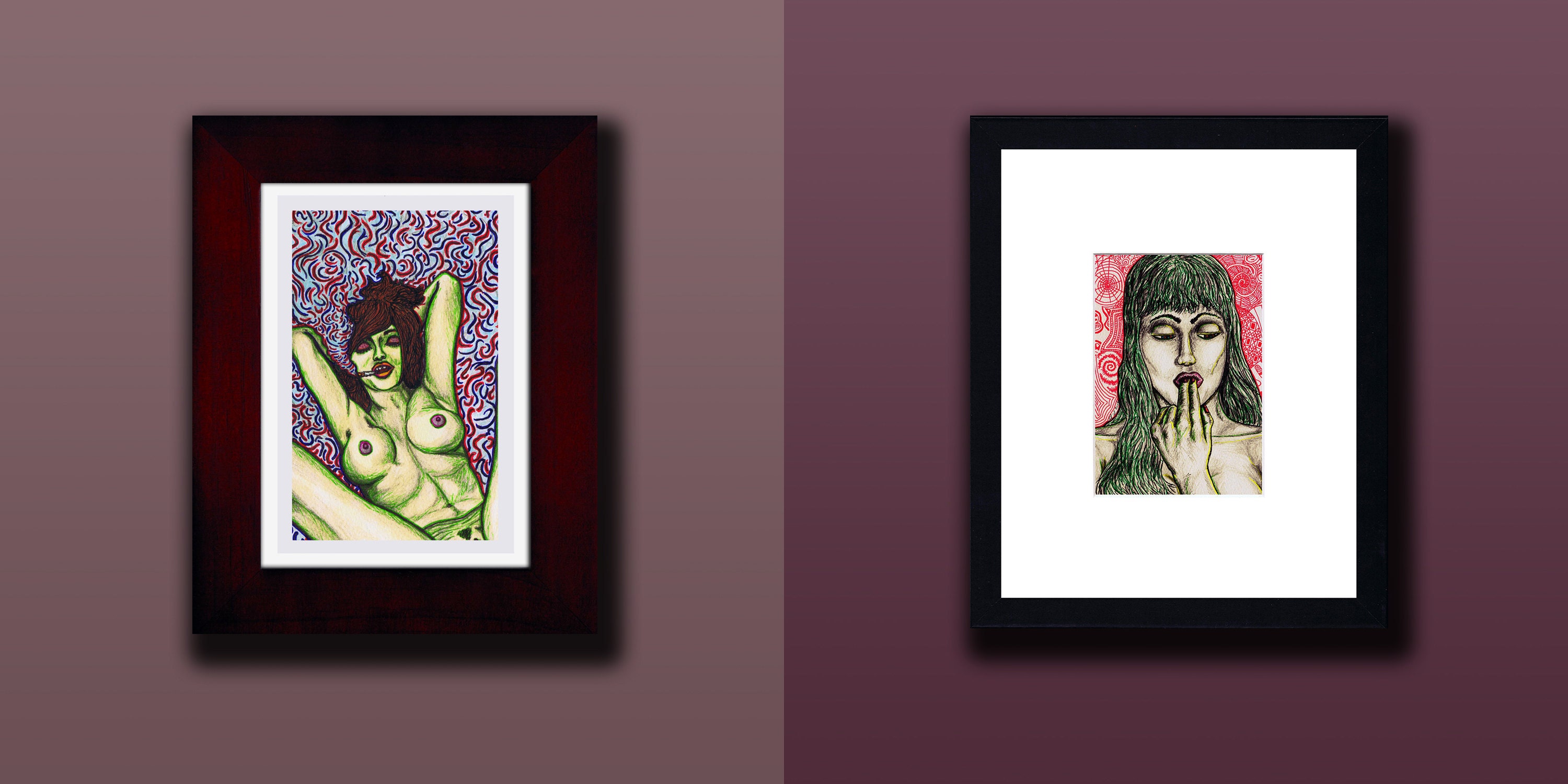 When viewed with 3D glasses, background lines of the images appear to slightly move around and shimmer/twinkle on and off.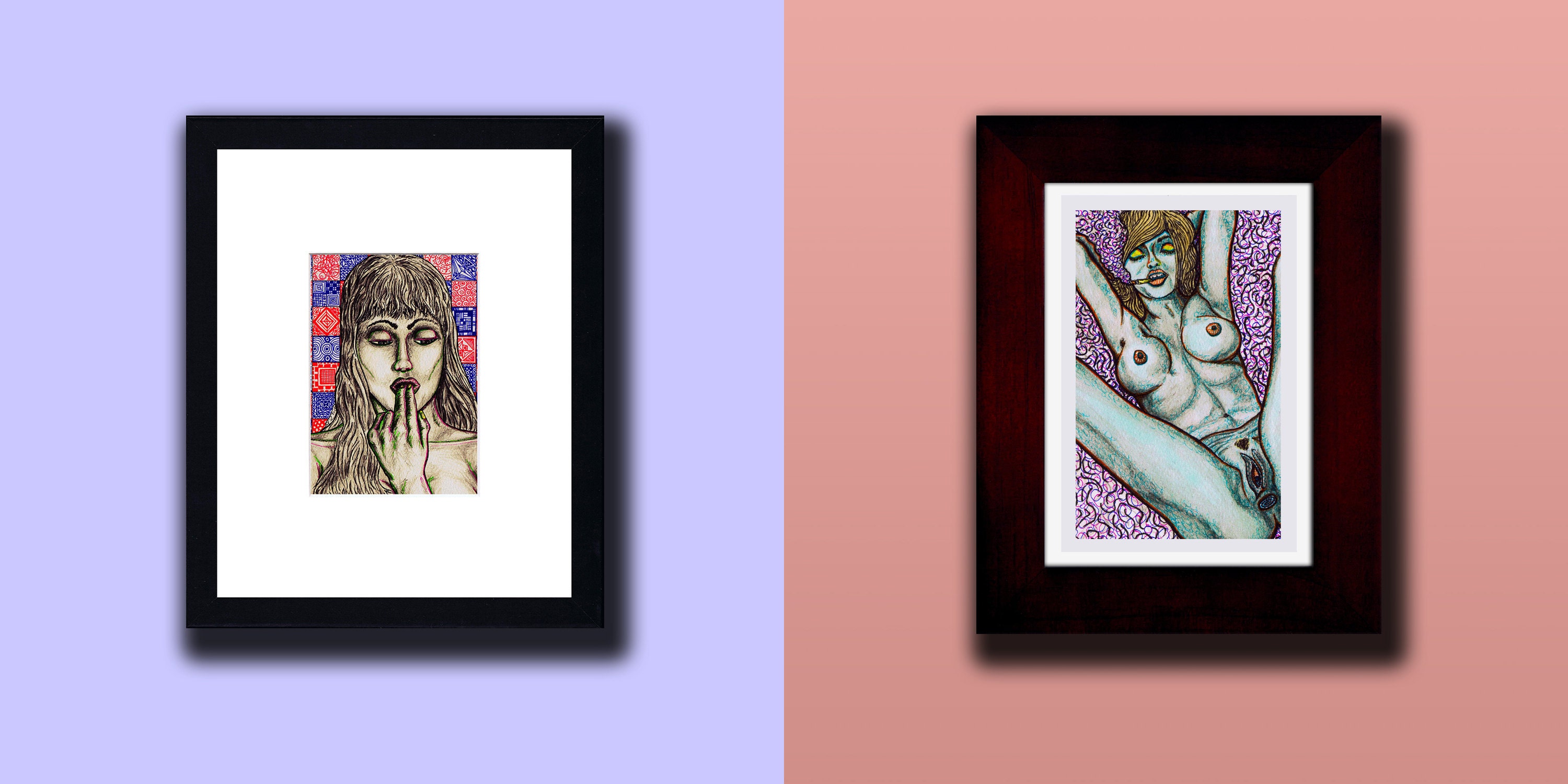 The figures in the prints also protrude from the background when the glasses are worn.
These op art pieces were fun, and I like the fact that I stumbled into the couple of techniques randomly.  I'll most likely make more from time to time, but I also hope to continue to find by chance new ways to augment the presentation of my artwork.
*Whenever I'm down there I go to Taco Surf on PCH in Sunset Beach and get some excellent chips, salsa, and burrito(s).  I don't get any compensation, finanical or otherwise, for writing this; I'm not writing at anyone's request; Taco Surf has no earthly idea who I am.  I simply felt compelled to give them a shout-out because I enjoy the food so much.  They have more than one location, but I like the spot on Hwy 1 (PCH).